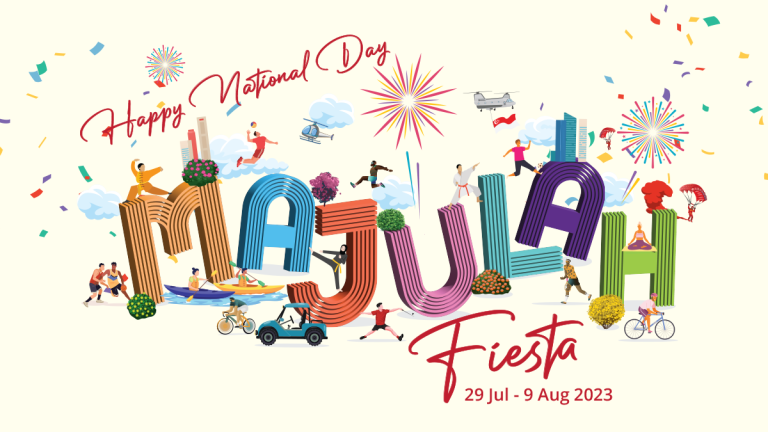 SINGAPORE, 2 AUGUST 2023 – Singapore Sports Hub welcomes its first national day with the community since the government's takeover of the Sports Hub in December 2022 with a party on 9 August. 
Majulah Fiesta finale which takes place on National Day caps off 12 days of exciting sports, games and competitions that kicked-off on 29 July with the launch of Majulah Fiesta 2023, as part of the annual GetActive! Singapore. The Fiesta is a celebration jointly organised by Sport Singapore and Kallang Alive Sport Management. Activities not to be missed include the Lion City Dance Convention and YouthCreates Ramp It Up Competition. Several thousands are expected to join us at the various sport activities taking place across various venues at the Singapore Sports Hub.
Come 9 August, everyone is invited to our party. It will be a full day of activities and entertainment as we celebrate the nation's 58th birthday together. There will be live screening of the National Day Parade (NDP), display of the National Flag on the National Stadium roof and awesome fireworks. There is no better way to spend this jubilant occasion than with your loved ones here at the Singapore Sports Hub!
It's a Grand Majulah Fiesta Finale!
Taking place at the OCBC Square, Majulah Fiesta finale promises fun family entertainment. Patrons can choose from a host of activities including creative workshops, riveting games, participate in fitness classes, and chow down on delicious food. 
The highlights of Majulah Fiesta finale are:
Majulah Fiesta Fitness Party
Join us for a fitness extravaganza, where we'll take your workout experience to the next level with two exciting sessions: 
Session 1: Cardio-infused dance workout with a Singapore twist. Get ready to break a sweat and unleash your inner dancer! 
Session 2: Throw it all the way back to the '90s, when you take part in our #GreatSGWorkout and experience the Dance of the Nation!
NDP Live Screening, Fireworks and National Stadium roof display: Pack a picnic, gather your friends and family, and join us at OCBC Square or Stadium Roar for the live NDP Telecast! The National Flag will be displayed on the National Stadium roof from 7.30pm – 10pm, and Sports Hub will set off its very own fireworks. It will be an unforgettable experience as the night sky lights up with a mesmerising spectacle. 

Old School Carnival Games 
Get involved in a world of classic carnival games and interactive family fun! 
Dive into XL-sized versions of games like Pick Up Sticks and Snake & Ladder or test your skills at carnival game booths with activities like feeding Nila, Tic Tac Toe, Giant Billards, and fast-hand challenges. 
Enjoy fringe activities such as balloon sculpting, face painting, upcycling paper crafts and personalised caricatures. 
Don't miss out on our workshops where you can create your own terrarium or learn the art of soy candle making. 
Complete at least 3 games to get a goodie bag, on a first come first served basis!

Fringe Activities
Food & Beverages: Indulge in a variety of culinary delights, including live stations, along with a wide selection of food, drinks, and snacks to satisfy your cravings!
Live Band Performances: Catch "The Passerby" perform traditional songs in English, Mandarin, Bahasa and Tamil.

​​​​​​​More information on Majulah Fiesta 2023 can be found here, and additional information on GetActive! Singapore 2023 can be found here. All media assets can be found here. 
### 
MEDIA ENQUIRIES 
Denise Ho
Consultant, Mutant Communications
denise@mutant.com.sg
Gerri Kwan
Executive Manager, Communications
Singapore Sports Hub
gerri.kwan@sportshub.com.sg
ABOUT SINGAPORE SPORTS HUB
Singapore Sports Hub is an iconic, premier destination offering sporting, entertainment and lifestyle experiences for all to enjoy. This world-class development is managed by Kallang Alive Sport Management Co Pte Ltd (KASM). It offers programming that comprises international recreational and competitive events, live entertainment as well as activities that cater to the broader community. The Singapore Sports Hub aims to serve the sporting and entertainment needs of people from all walks of life. 
Home to unique world-class sports facilities within the city, the Singapore Sports Hub plays a critical role in accelerating the development of Singapore's sports industry, excellence and participation.  Located on a 35-hectare site in Kallang, the Singapore Sports Hub includes the following facilities: 
A 55,000-capacity National Stadium with a retractable roof and movable tiered seating
The iconic Singapore Indoor Stadium
A 6,000-capacity OCBC Aquatic Centre that meets FINA standards
A 3,000-capacity OCBC Arena which is scalable and flexible in layout
Water Sports Centre featuring kayaking and canoeing
41,000 sqm Kallang Wave Mall, including indoor climbing wall and Splash-N-Surf facility (Kids Waterpark, Stingray and Lazy River)   
100PLUS Promenade that encircles the National Stadium
Singapore Youth Olympic Museum & Singapore Sports Museum
Singapore Sports Museum
Sports Hub Library
Shimano Cycling World 
Daily community facilities and activities, including beach volleyball, hard courts (futsal, basketball and netball) lawn bowls, giant chess, skate park and running & cycling paths.

For more information, please visit the Singapore Sports Hub website: 
Website: www.sportshub.com.sg 
Facebook: sgportshub 
Instagram: sgsportshub 
LinkedIn: @SingaporeSportsHub
Twitter: @sgsportshub 

ABOUT SPORT SINGAPORE
As the national sports agency, Sport Singapore's core purpose is to inspire the Singapore spirit and transform Singapore through sport. Through innovative, fun and meaningful sporting experiences, our mission is to reach out and serve communities across Singapore with passion and pride. With Vision 2030 – Singapore's sports master plan, our mandate goes beyond winning medals. Sport Singapore uses sport to create greater sporting opportunities and access, more inclusivity and integration as well as broader development of capabilities. Sport Singapore works with a vast network of public-private-people sector partners for individuals to live better through sport.
To find out more, visit SportSG's websites at www.sportsingapore.gov.sg and www.circle.myactivesg.com/stories.
Follow SportSG on:
Facebook - https://www.facebook.com/livebetterthroughsport/
Instagram - www.instagram.com/sport_singapore/
YouTube - www.youtube.com/SingaporeSports

ABOUT GETACTIVE! SINGAPORE
GetActive! Singapore builds on the legacy of the 28th SEA Games and the 8th ASEAN Para Games hosted in Singapore in 2015 and comprises a week-long series of sports festivals, ground-up sports initiatives, and competitions. Held in the lead up to Singapore's National Day, GetActive! Singapore aims to rally Singaporeans together to celebrate National Day through sport. The GASG is a platform to inspire the Singapore spirit and celebrate our national identity.
Each year we look to transform our sporting spaces into social commons and to facilitate greater sport participation and promoting an active sporting and healthy lifestyle. GetActive! Singapore will have programmes that reach out to participants of all ages, abilities, and skill levels. Working with partners, Sport Singapore will foster community participation and engage Singaporeans to co-create sporting activities suitable for all ages.