Join a three-day extravaganza at our inaugural Celebrate Hari Raya @ Stadium Roar
from 29 April
Watch athletes and school students flex their skills in cultural performances of Silat, Dikir Barat and traditional Malay dance. 
Tour Singapore Sports Hub venues and the Singapore Sports Museum for free.
Blast to the past with traditional games such as bola tin and spinning tops, and indulge in a feast of local delights from The Warung, Ramly Burger, Yodaebak and more.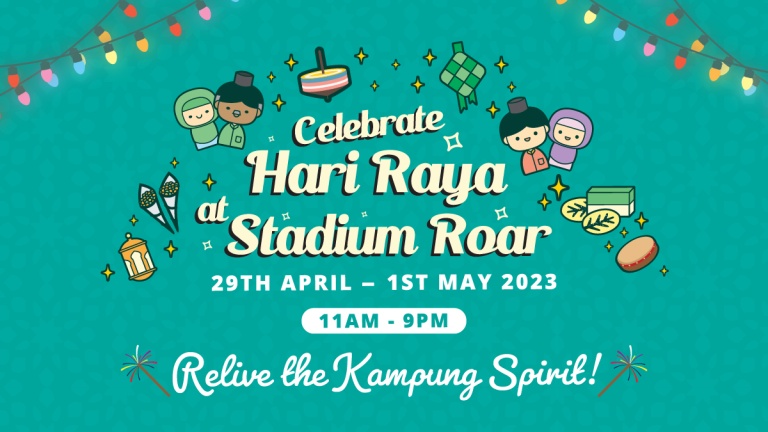 SINGAPORE, 25 April 2023 – Singapore Sports Hub is bringing back the kampung spirit with Celebrate Hari Raya @ Stadium Roar, its inaugural three-day festival, taking place from 29 April to 1 May 2023. Expect to be dazzled by an array of Malay cultural experiences, festivities and, of course, gastronomy. 
Good ol' kampung life
Visitors to Celebrate Hari Raya @ Stadium Roar will have the opportunity to try their hand at traditional games like bola tin, giant five stones, spinning tops, a life-sized eraser challenge and even a sepak takraw pong challenge. Those seeking something a little less competitive can look forward to crafts like tile painting, ketupat plushie making, stained glass art or even take part in creating a community mural using playnting, the technique of using drumsticks dipped in paint to create rhythmic paint patterns across a canvas. Participation is free, and more information can be found here. 
Vibe to a medley of performances

From left to right: SHAGIES and Singapore Silat Federation members
Need a break from the games and activities? Make a date with local bands Jive Talkin', O.M.A and SHAGIES, and catch exhilarating performances by the members of Singapore Silat Federation. Local schools will also be putting on a competitive display of culture for all to cheer on and enjoy. 
Singapore Polytechnic face off against Nanyang Technological University in a battle of Dikir Barat, a traditional Malay form of singing accompanied by percussion. 
Changkat Changi Secondary and Republic Polytechnic students are set to wow the crowd with traditional Malay dance performances.
Finally, wind down with the little ones by listening to some storytelling. They'll be brought on a historical journey of myths, facts and the history of Hari Raya celebrations in Singapore.
Jom! Tour our venues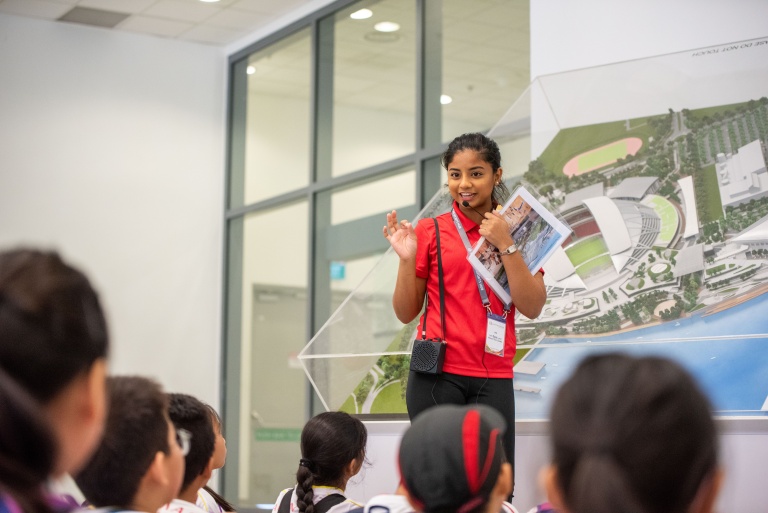 Venue Tour in action
In the spirit of Hari Raya, we will also be opening our 'house' for visiting! Drop by and enjoy a tour of our world-class facilities, from the iconic Singapore Indoor Stadium to the Water Sports Centre, Singapore Sports Museum and more. Visitors interested in the tour can register on-site. It's free and no prior registration is required. 
Sedap! A feast for your tummy and a treat for your eyes

From left to right: Goreng Pisang and Satay
No cultural festivity is complete without mouth-watering delectables. Check out our vendors from The Warung, Ramly Burger and Yodaebak! Fill up with juicy burgers, crispy fried chicken, or tender satay before diving into snacks like roti jala, tahu goreng, goreng pisang, and apam balik. But that's not all! Feed your sugar rush with our epic spread of assorted kuehs.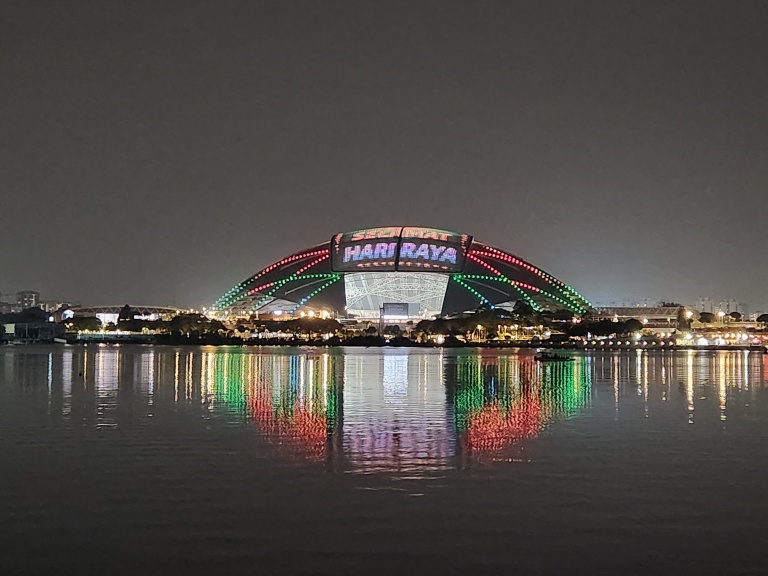 National Stadium Roof Light Up
In celebration of the occasion, the National Stadium roof will be illuminated with a beautiful display from 29 April to 1 May, between 7.30pm and 10pm, depicting the change of time from kampung to city and ending with portraits of our Malay and Muslim communities.
More information on Celebrate Hari Raya @ Stadium Roar can be found here. All media assets can be found here. 
### 
MEDIA ENQUIRIES 
Denise Ho
Senior Consultant, Mutant Communications
denise@mutant.com.sg
Pui Leng Low
Head, Communications
Singapore Sports Hub
puileng.low@sportshub.com.sg
 
ABOUT SINGAPORE SPORTS HUB
Singapore Sports Hub is an iconic, premier destination offering sporting, entertainment and lifestyle experiences for all to enjoy. This world-class development is managed by Kallang Alive Sport Management Co Pte Ltd (KASM). It offers programming that comprises international recreational and competitive events, live entertainment as well as activities that cater to the broader community. The Singapore Sports Hub aims to serve the sporting and entertainment needs of people from all walks of life. 
Home to unique world-class sports facilities within the city, the Singapore Sports Hub plays a critical role in accelerating the development of Singapore's sports industry, excellence and participation. Located on a 35-hectare site in Kallang, the Singapore Sports Hub includes the following facilities: 
A 55,000-capacity National Stadium with a retractable roof and movable tiered seating
The iconic Singapore Indoor Stadium
A 6,000-capacity OCBC Aquatic Centre that meets FINA standards
A 3,000-capacity OCBC Arena which is scalable and flexible in layout
Water Sports Centre featuring kayaking and canoeing
41,000 sqm Kallang Wave Mall, including indoor climbing wall and Splash-N-Surf facility (Kids Waterpark, Stingray and Lazy River)   
100PLUS Promenade that encircles the National Stadium
Singapore Youth Olympic Museum & Singapore Sports Museum
Singapore Sports Museum
Sports Hub Library
Shimano Cycling World 
Daily community facilities and activities, including beach volleyball, hard courts (futsal, basketball and netball) lawn bowls, giant chess, skate park and running & cycling paths.
For more information, please visit the Singapore Sports Hub:
Website: www.sportshub.com.sg 
Facebook: sgportshub 
Instagram: sgsportshub 
LinkedIn: @SingaporeSportsHub
Twitter: @sgsportshub