Have you tried indoor skydiving? What about kiteboarding or fencing? Recognising the growing number of young athletes excelling in diverse fields, the Sport Excellence Scholarship (spexScholarship) programme for 2022 includes recipients who are outstanding in less-conventional sports.
Athletes Kyra Poh, Kiria Tikanah Abdul Rahman and Maximilian Maeder are among those flying the Singapore flag high in niche sports and inspiring others to join them.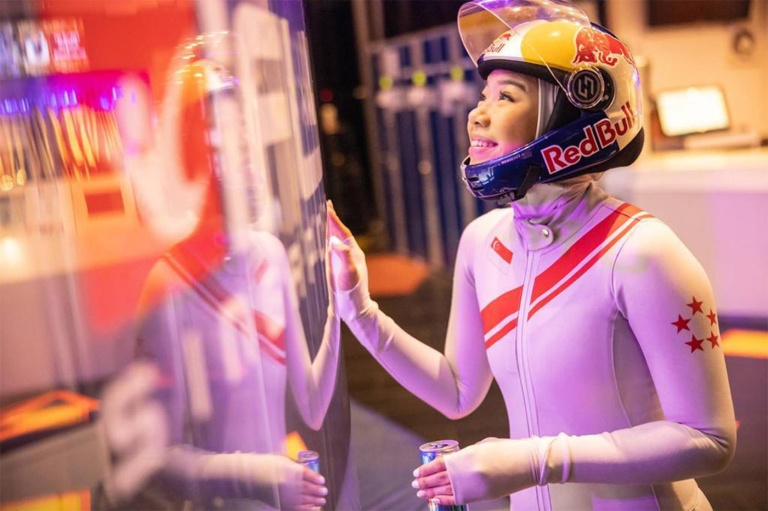 KYRA POH, 19, INDOOR SKYDIVER
If you've ever wanted to skydive but do not have the opportunity, the more accessible indoor skydiving is a sport you'll want to try. Taking place in a vertical wind tunnel, the sport has practitioners performing simulated skydives without having to jump out of a plane. While defying gravity, they execute choreographed moves – often set to music – in a combination of athletic and artistic display.
Kyra Poh first encountered indoor skydiving when her mother, an advertising professional, needed children to be featured in iFly Singapore's advertisements. The latter is the city's first and only indoor skydiving facility.
"When she asked me if I wanted to 'fly', of course I said yes! I've always had a love of adrenaline, so from the moment I tried it, I knew I wanted to do this. More than a hobby, it's my sport," says Kyra, who was then eight years old.
Within six years, Kyra was flying high. At 14 years old, she was dubbed 'world's fastest flyer' at her international debut, the Wind Games 2017, where she clinched two gold and one silver medals.
In December 2021, she and her younger sister Vera, 12, competed together for the first time in the Belgium Open Indoor Skydiving Championship and came in first in the two-way dynamic category. And at the recent 4th FAI World Cup of Indoor Skydiving 2022, Kyra took home the gold medal for the freestyle solo open category.
These successes have made Kyra's sacrifices worthwhile. "I 'fly' almost every day when leading up to a competition, as well as follow a strict workout regimen and diet," she says, adding that when she started out at the sport, she often had to give up on time with her friends. "I missed out on a lot of fun but the love I have for my passion definitely kept me going."
Besides juggling competitions and training with her studies at the School of the Arts, Kyra also had to contend with finding her footing in a niche sport at a young age: "It was definitely a struggle initially — being from the first Asian country to take part in the World Cups and Championships and being in an all-female team. It was hard to find my place in the sport and to compete against people twice or thrice my age. There were people who tried to put us down at the beginning and didn't believe that my sister and I were strong enough as young kids to take part at a world level. But we worked very hard to get to where we are today and have gained their respect."
Not one to rest on her laurels, Kyra plans to start competing in outdoor skydiving as well and to win a world championship in that area. "I also hope to keep competing indoors and continue to make Singapore proud, as well as groom the younger generation here and expand our community of flyers."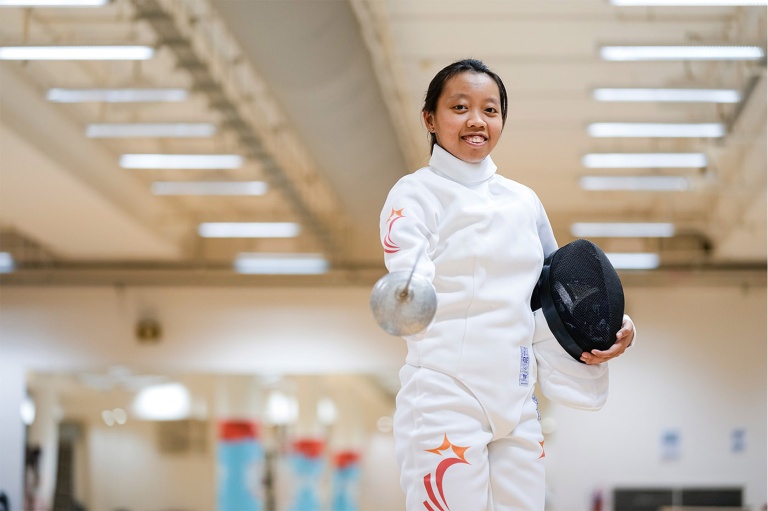 KIRIA TIKANAH ABDUL RAHMAN, 22, FENCING
Fencing might seem like an old-fashioned duel more often seen in movies, but for Kiria Tikanah Abdul Rahman, the sport is part of her very modern life. First picking up the sport at eight years old, she switched from foil (lightweight weapon with a rectangular blade) to epee (slightly heavier weapon with a triangular blade) four years later when she realised the slower, more calculated movements associated with the epee better suited her fencing style.
According to Kiria, fencing has taught her discipline and sacrifice: "Because I was so focused on fencing, I rarely had the chance to try out other co-curricular activities and sports. And because precision is a big part of fencing, a lot of time was also needed to practise and perfect my actions."
After national fencer Amita Berthier, Kiria became the only other Singaporean to qualify for the sport at the Tokyo 2020 Olympic Games. Even though she was then ranked world No. 207, Kiria beat several higher-ranked opponents from the Philippines, Thailand and Uzbekistan in quick succession, sealing her spot at the Olympics. While she didn't bring home any medals, she lost by only five points to world No. 2 Ana Maria Popescu, who went on to win silver.
Kiria says that she is most fulfilled when competing overseas. "Having the chance to fence overseas against different people with different styles reminds me of how enjoyable and challenging fencing can be."
Prior to the Tokyo 2020 Olympic Games, Kiria did Singapore proud at the 30th SEA Games in the Philippines by winning the gold medal. She also made it to the finals of the women's individual epee competition at the 31st SEA Games this year alongside fellow Singaporean Elle Koh, who ended up beating her to the gold.
Impressively, Kiria has come this far without any extended training stints overseas, and while keeping up with her studies as a chemistry student at the National University of Singapore. She currently trains at the multi-purpose OCBC Arena at Singapore Sports Hub, which caters to the training needs of our national athletes.
Kiria, who hopes to one day experience an overseas training camp and compete consistently on the international circuit, says that she would advise other young Singaporeans to dream big and work towards their sporting goals: "Everyone starts somewhere. Even world champions were once beginners too."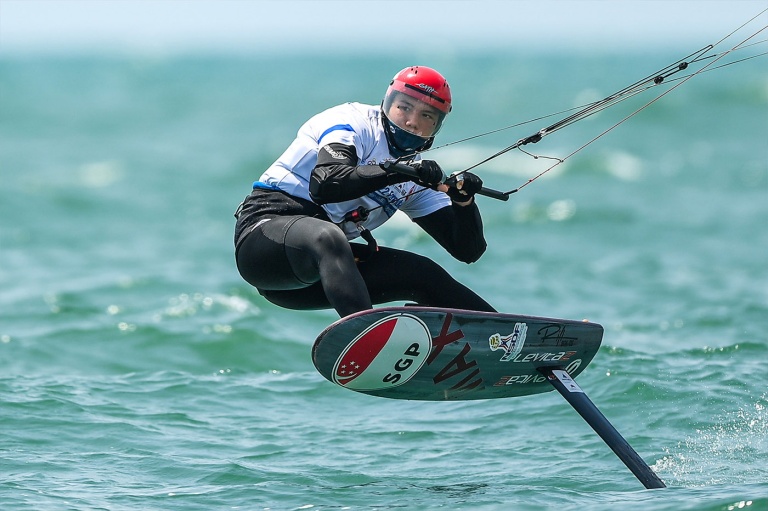 MAXIMILIAN MAEDER, 16, KITEBOARDING
Also known as kitesurfing, kiteboarding sees athletes gliding across water, land or snow with the help of a large power kite fuelled by wind. Maximilian Maeder's chosen form of the sport is kitefoiling, in which he surfs on a kite-propelled board with a hydrofoil across the water.
The Singaporean, who trains in Croatia, first picked up kitefoiling at age 10. Three short years later, he was participating in his first overseas race. He went on to win the Formula Kite Youth (U19) World Championships, European Championships and the World Sailing Youth World Championships, all in 2021.
Earlier in 2022, Maximilian took part in the annual French Olympic Week, a sailing regatta that saw 68 competitors in the kiteboarding category. He triumphed over decorated rivals like reigning Formula Kite World Champion Theo de Ramecourt and former world No. 1 Riccardo Pianosi to win the gold. Maximilian is currently ranked 15th in the world.
With kiteboarding set to make its Olympic debut at the Paris 2024 Olympic Games, Maximilian hopes to be in peak form for the qualifiers in 2023 – where he will undoubtedly do his best to speed his way to glory.