(Photos by the Singapore Sports Hub)
Whenever you drive past Nicoll Highway, chances are you'd spot elite athletes and youth groups rowing along Kallang Basin. However, did you know that members of the public can also canoe and kayak at the enclosed bay, and that the equipment — including boats, personal flotation devices (PFDs) and paddles — are available for public rental from Singapore Sports Hub's Water Sports Centre?
Here are more facts to help you better appreciate the Water Sports Centre and Kallang Basin:
The Kallang Basin is one of the most scenic spots for water sports in the city. With sweeping views of Gardens by the Bay and the Central Business District skyline, it's the perfect location for outdoor fun and exercises.
According to a source, the name "Kallang" originated from indigenous sea gypsies (Orang Biduanda Kallang) who settled at the mouth of the river from as early as the 1500s. But another source says it could be derived from the Malay word kelang (meaning "mill" or "factory"), as there used to be many saw and rice mills in the area. Which do you think it is?
What we do know with more certainty is that Kallang Basin — much like the Singapore River — was a centre for commercial activities centuries ago. In the early days, traders would unload cargoes from their sail boats at the spot where Tanjong Rhu is today.
As a result of people living and working along the area, the Kallang Basin and the Singapore River became heavily polluted. In 1969, then-Prime Minister Lee Kuan Yew tasked government agencies to clean up Singapore's waterways. The massive operation commenced in 1977 and took 10 years to complete. Today, Kallang Basin is part of the 35 hectares occupied by Singapore Sports Hub, providing water sports enthusiasts with a space to enjoy their favourite activities.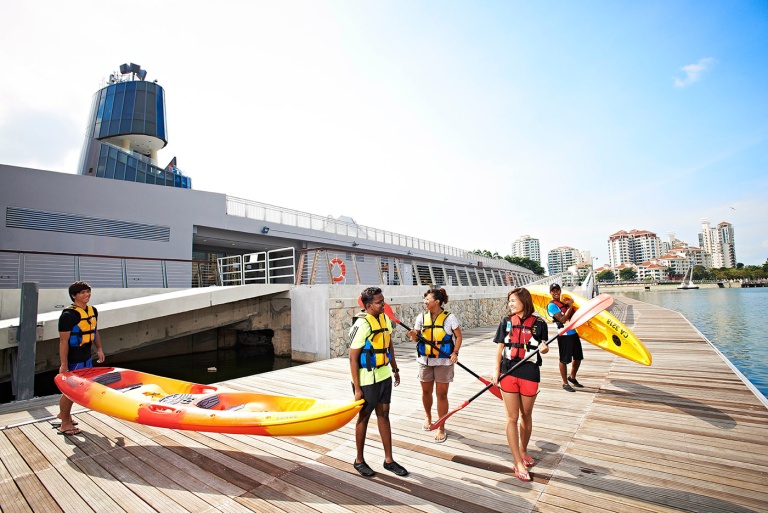 Singapore's longest launch pontoon can be found at the Water Sports Centre.
The Water Sports Centre has the longest launch pontoon (a floating platform where kayaks set off) in Singapore, spanning 150 metres. That's the diameter of the Singapore Flyer, which sits beside the Kallang Basin.
The Water Sports Centre has 80 canoes, kayaks and dragon boats ranging in size and type for hire. Check out the affordable rental rates and plan your activity today.
The regatta course comprises 6 lanes (81 meters in width) and is 500 metres long. That's slightly more than the height of Marina Bay Financial Centre Towers 2 and 3 combined. The regatta course is complemented by a Finish Tower with a Judges Area, Control Room and the Finish Camera positions.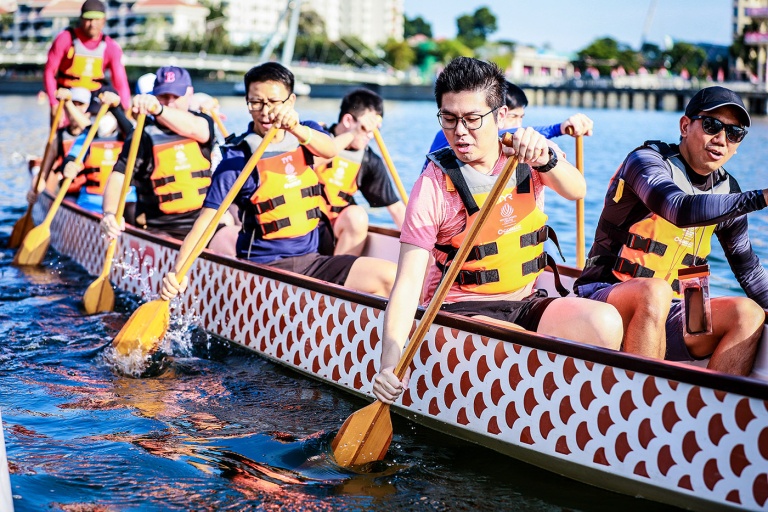 The Water Sports Centre is home to the Singapore Canoe Federation, the Singapore Dragon Boat Association and the ActiveSG Canoe Academy.
If you want to get certified or advance your certification, Water Sports Centre offers the following courses.
Dragon Boat Orientation Programme
Kayak/Canoe Orientation Programme
Kayak 1 Star Personal Skill Award
Kayak 2 Star Personal Skill Award
With the kayaking certification, you can embark on more challenging rowing adventures when on holidays abroad. It's truly a valuable and rewarding skill to have. Find out more about the courses here.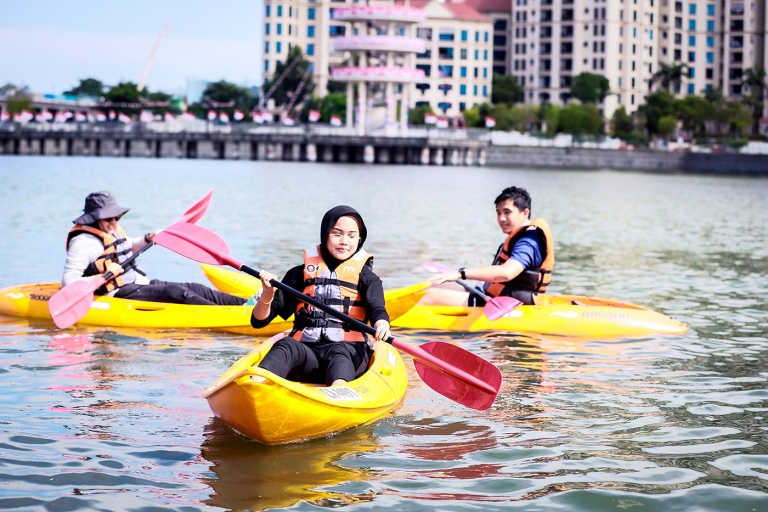 Kayak vs Canoe: Same, same but different
To non-rowers, kayaks and canoes may seem like similar activities. But there are differences. Here are 3 distinctions between the two water sports:
Canoeists use a single-bladed paddle, but kayakers use a double-bladed paddle.
Canoeists either kneel or half-kneel in their boat. Kayakers sit in a low seat with their legs stretched out.
Canoes tend to have open decks (imagine a sampan), whereas kayaks can have either closed or open decks. In open deck kayaks, you'll be sitting on top of the kayak, rather than inside the kayak. "Sit on top" kayaks are great for beginners because it's easier to free yourself should your kayak capsize.
SOURCE: ActiveSG