Shuttler Loh Kean Yew — ranked world No. 3 back in November 2022 — has been flying the Singapore flag high, so it's no surprise that badminton is enjoying a resurgence of interest here. As a crowning highlight, enthusiasts can look forward to the upcoming National Open Championships, which take place at Singapore Sports Hub's OCBC Arena between 4 and 10 February 2023. 
Whether you've been a veteran of the game since young, or only recently picked up a racket, you'll want to check out these 10 fun facts about the sport in Singapore.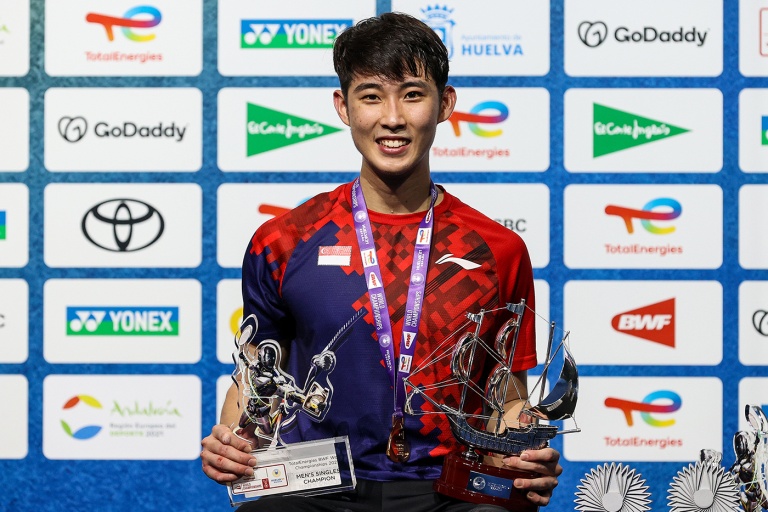 Photo courtesy of Badmintonphoto.
#1: THE FIRST SINGAPOREAN BWF CHAMP
This is one that even non-badminton fans would know. In 2021, Loh Kean Yew made history by becoming the first Singaporean to win the Badminton World Federation (BWF) World Championships. The then-world No. 22 was an underdog who defeated world No. 14 Srikanth Kidambi of India in the final — a feat he achieved despite suffering an ankle injury that saw him in a wheelchair after the previous night's match.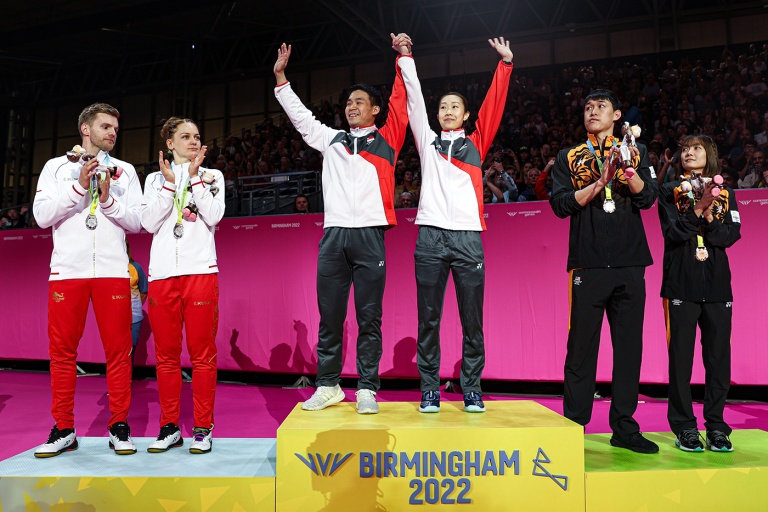 Photo courtesy of Badmintonphoto.
#2: MIXED DOUBLES, MARRIED DUO
Terry Hee and Jessica Tan are more than partners on the court; they've also been married since 2021. Compared to other couples, the pair have something extra-special to mark their honeymoon period — a jointly-achieved Commonwealth Games victory. The mixed doubles pair — currently ranked world No. 13 — took home Singapore's first-ever gold medal in the badminton mixed doubles category, making 2022 a very good year for them, after also winning first place in the India Open's mixed doubles final in January 2022, in addition to the Orleans Masters in France. Next highlight of their career? They hope to qualify for the 2024 Paris Olympics.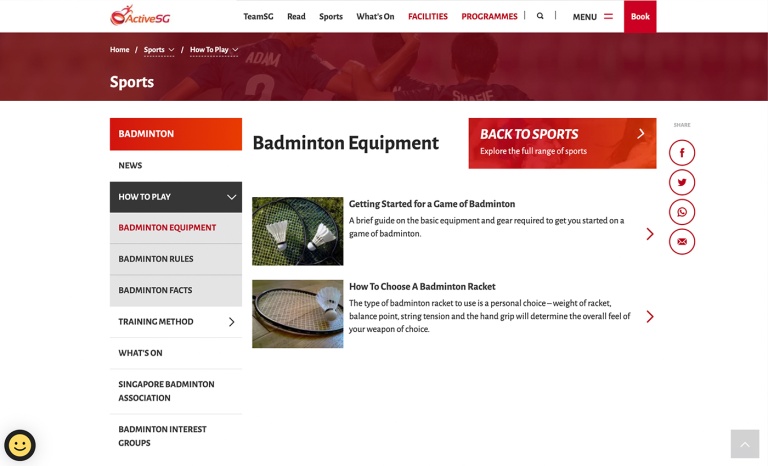 #3: YOU CAN LEARN TO PLAY WITH ONLINE RESOURCES BY ACTIVESG
If reading about the exploits of Singapore's badminton pros makes you want to pick up a racket and practice your footwork, you can learn how to play from the resources available on ActiveSG's website. Besides useful guides on topics such as how to choose the right badminton racket, you can also check out video tutorials on the different types of strokes and how to develop a well-executed serve.  
#4: THE FIRST TIME WE REACHED THE THOMAS CUP FINALS
As an independent nation, Singapore first qualified for the finals of the Thomas Cup in 1986. Singapore was knocked out before the semi-final round, with China eventually defeating Indonesia to take the cup.
#5: EVEN OUR LEADERS ENJOY THE GAME 
Our late former president, Mr Wee Kim Wee, was not only an avid badminton player and prominent Singapore Badminton Association (SBA) member, but also a champion in his own right. Among his collection of personal belongings is a trophy he received in 1938, having won that year's Singapore Junior Badminton Championship. The trophy can be viewed at Mr Wee's personal office at the Singapore Management University, which opens to the public in early 2023.
#6: ANOTHER ALL-TIME GREAT
Wong Peng Soon, who was born in Johor Bahru but migrated to Singapore as a teenager, was one of the world's top players during his international badminton career, from the 1940s to the 1950s. The famously-disciplined athlete would skip for over an hour to stay fit and according to former President, Mr Wee Kim Wee — who was his badminton contemporary — would decline invitations after 6.15pm so he could go to bed early. The results of his strict routine? The seven-time Singapore Open champion was the first Asian to triumph at the 1950 All-England Championships – a title he took home three more times (1951, 1952 and 1955). 
#7: FUN CLUBS FOR A TRENDY SPORT 
First introduced to Singapore by the British, badminton quickly became popular during the colonial years and by the 1930s, there were badminton clubs — also known as parties — with whimsical names, like Marigold Badminton Party, Useful Badminton Party, Diehard Badminton Party and Mayflower Badminton Party.
Bonus fact: Wong Peng Soon was a member of the last club, which was where he honed his skills to become a badminton legend.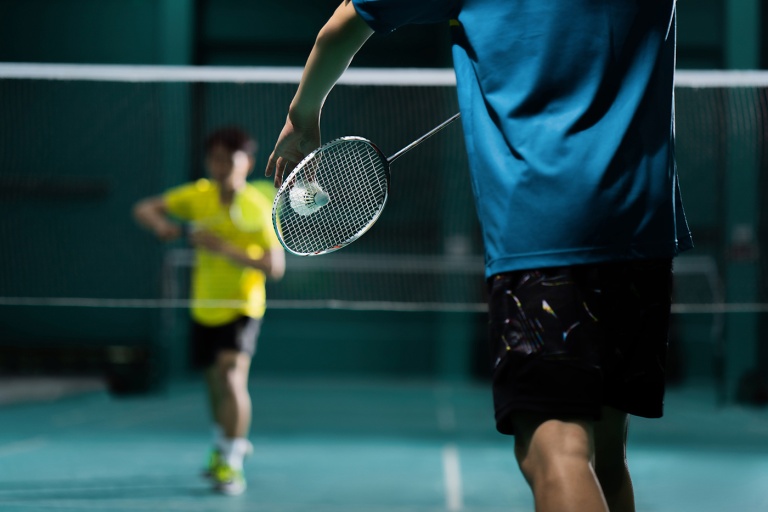 Photo from Shutterstock.
#8: JOIN A BADMINTON GROUP TODAY
The glory days of badminton aren't all in the past. Today's badminton enthusiasts of all ages – whether casual weekend warriors or aspiring world-class champions – can select from the numerous badminton interest groups available in Singapore. These interest groups serve up a great way to pick up the sport, make new friends and get active, all at the same time.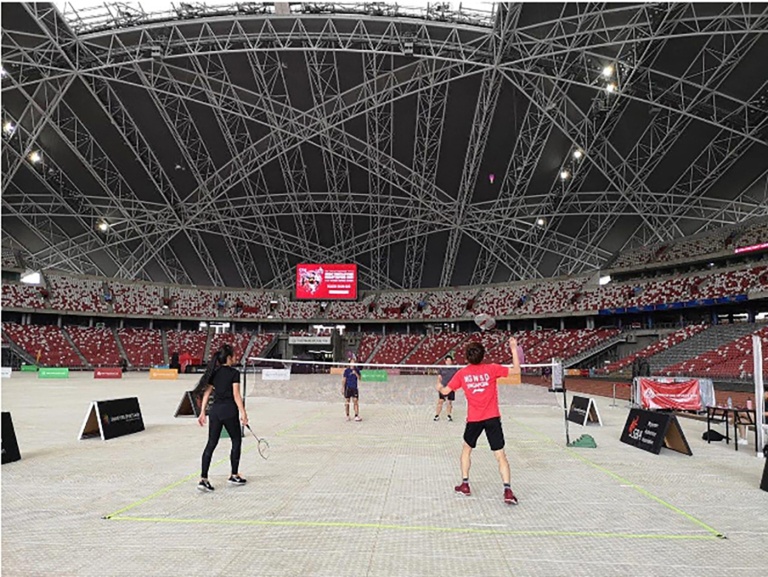 Photo courtesy of Singapore Badminton Association.
#9: A FUN NEW WAY TO PLAY THE SPORT
More people are taking up AirBadminton, an outdoor form of the game that takes place at beaches, parks and other outdoor areas. This is made possible by the 3-gram-heavier AirShuttle, which was also designed with increased wind resistance, making it possible to play in situations where the wind speed is up to 12km/h. So if you and your friends want a last-minute game and the courts are all booked, head outside instead for a round of AirBadminton.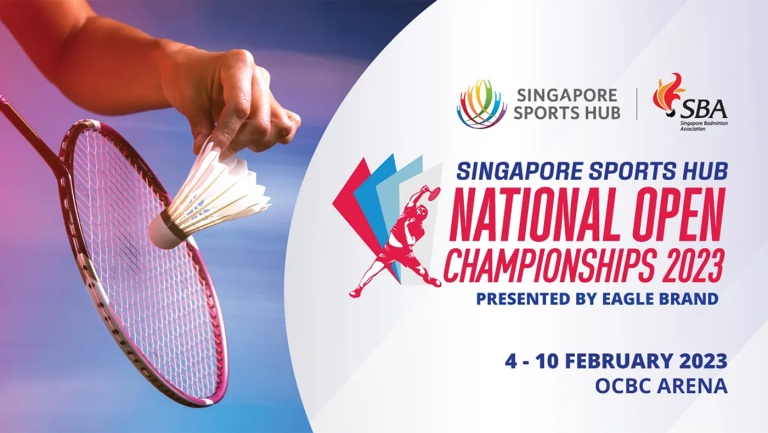 #10: EVERYONE CAN PLAY BADMINTON COMPETITIVELY
In keeping with the sport's accessibility, the National Open Championships 2023 sees the best of the best going up against each other, but also welcomes anyone who wants to take a shot at badminton glory, as long as they reside in Singapore.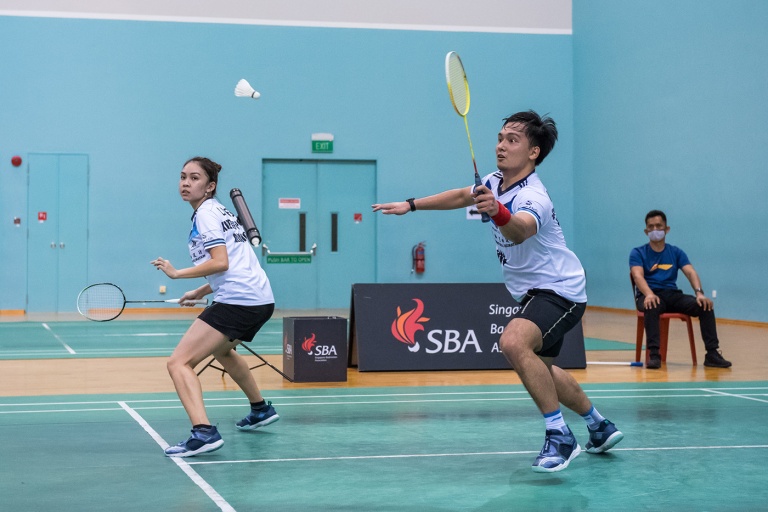 MORE BADMINTON TRIVIA
There are numerous badminton halls in Singapore by venue providers such as ActiveSG, People's Association (community centres), and HomeTeamNS and SAFRA clubs. Some schools open their badminton halls to the public for bookings on weekend. Private venue providers, such as Singapore Badminton Hall and Suntec Convention Centre, also rent out their space for the sport. 
There are 10 local tournaments annually, all either organised or sanctioned by SBA. One of them is the Singapore Badminton Open, which has been upgraded from a Super 500 to a Super 750 series by BWF. There are only six tournaments at this level in the BWF World Tour.
Registration for the National Open Championships has always been opened to the public on a first-come, first-serve basis. But with the development of the SBA National Ranking system, players' rankings will be used to determine their eligibility in the tournament starting from 2024. Considering that the National Open Championships is a Tier-1 tournament, this move will ensure that spectators get to see top-ranked players compete.