Fitness classes abound in Singapore, from barre to boxing, and Tabata to trampolines. If none of these appeal to you – or if you're simply looking to switch things up – surfing might be the activity that triggers your post-workout endorphin rush. 
No, this doesn't involve paddling out to Sentosa. Instead, you can choose between two forms of surfing activities, Stingray ® and SURFSET Fitness, located at the Singapore Sports Hub. Here's what you can expect. 
Stingray ®
Stingray ® is a half-pipe surfing facility within Splash-N-Surf.
PHOTO: SINGAPORE SPORTS HUB
What: Stingray ® is a half-pipe surfing facility within Splash-N-Surf. There, you can have a go at bodyboarding or skimboarding on an artificial wave pool.  
Who: The class has a broad appeal, from people keen to try a new sport or to spice up the weekend. It's grown especially popular over the last year, according to Ahmad Nagieb, an instructor at Stingray ®.
"Stingray ® is a fun way to burn calories because the exhilaration of surfing hides the fact that you're using every muscle in your body to maintain your balance," he says. 
How: Each session can accommodate up to five surfers and runs for an hour. It starts with a safety briefing, followed by a dry run to practice movements on land before heading to the wave pool. 
In the water, you can adopt three positions depending on your skill level. Beginners start with bodyboarding, a basic position that involves lying down on the board. Then, they can move up to kneeboarding before attempting the standing up position. 
Cost: $30 to $35 per hour during non-peak and peak hours respectively. Classes have to be booked online and are only available in alternate hours due to Covid-19 restrictions. 
SURFSET Fitness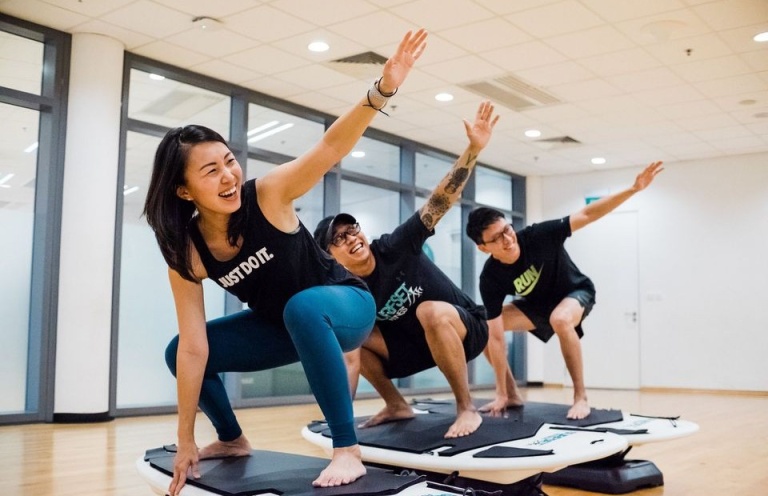 SURFSET Fitness replicates a workout similar to surfing through the use of a custom-made surfboard.
PHOTO: SINGAPORE SPORTS HUB
What: The SURFSET Fitness workout method is a fitness program inspired by surfing. It uses a custom-made surfboard that replicates the cardio workout of the sport. Like Stingray ®, the challenge is derived from the instability of the board. 
"Our tagline is 'Everything is harder on the board'," says Yu Shuyi, a SURFSET Fitness instructor. "Your body needs to constantly fire stabiliser muscles to keep your movements in control." 
Although it's easy to get a feel for the board quickly, Yu adds that it provides a punishing core workout difficult to achieve on solid ground. 
Who: Some of SURFSET Fitness' clients are surfers or snowboarders looking to maintain their conditioning. However, the majority are people looking to shake up traditional fitness classes with something different. 
"Many people come to us looking for 'surfer bod' – the lean muscular physique you find at beaches in surf towns," says Yu. "SURFSET Fitness is a great way to sculpt long, lean muscles that are nicely defined, without adding excessive bulk."
How: SURFSET Fitness offers three 45-minute programmes. The introductory Balance classes teach the fundamentals to get used to the motion of the board and have control over your body. After that, you can move on to advanced classes that focus on core strength or high-intensity cardio training. 
Cost: Prices range from $24.70 to $35 per class, depending on the package you choose. First timers can also enjoy the one-for-one promotion when they come with a friend.