"Be a man! Do the right thing!" 
Perhaps many of us recall watching — back when YouTube was still rising — a hilarious clip of Russell Peters re-enacting his exchange with a Chinese shopkeeper over a $35 handbag. His accents were convincing, his punchlines hit the mark, and it was the start of our obsession with stand-up comedy. 
That 2004 performance from Comedy Now! (a Canadian comedy TV series) would go viral, propelling Peters to international fame. 
Almost 20 years later, the popular Canadian stand-up comedian is still performing. And he's returning to Singapore on 25 February 2023 with a brand-new show at the Singapore Indoor Stadium. He has staged many sold-out performances in our city over the years, most recently in 2018.  
Peters, now 52, will explore ageing, cancel culture and the state of the world on his new Act Your Age World Tour. Expect his trademark observational comedy, uncanny impersonations and piercing wit.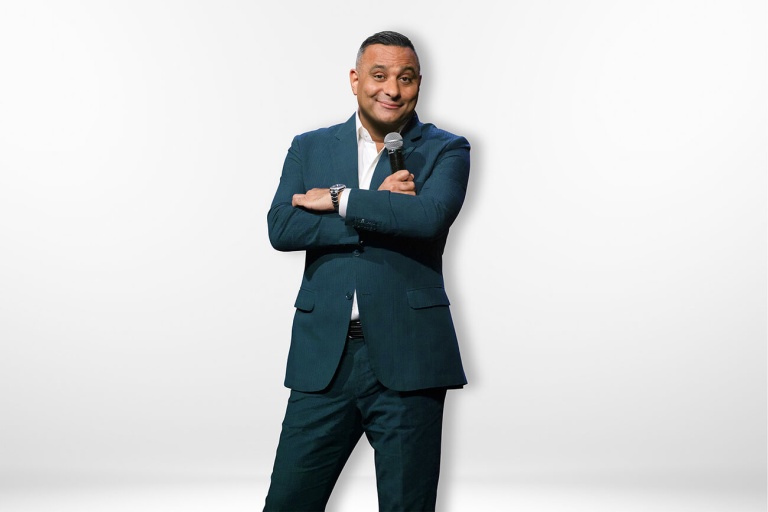 Peters is no stranger to our Lion City. He's performed here in 2012, 2013, 2015, 2016 and 2018! His first gig in 2012 sold out so quickly that event organisers scrambled to add a second show. 
Peters' been named one of Rolling Stone's 50 Best Comics of All Time.
Peters has been awarded Gemini, Peabody, Emmy and Canadian Screen Awards for his hosting, producing and acting talents. His last TV series, The Indian Detective, broke viewership records in Canada and was released globally on Netflix.
Peters started performing at open-mic gigs in his hometown of Toronto, Canada, when he was 19 — meaning his career in comedy spans over an impressive 33 years. 
In 2013, Peters was the first comedian to create a Netflix original special, paving the way for many other stand-up comedians who followed suit. Have you watched Notorious and Russell Peters vs The World? But nothing like watching the man himself perform his new material in person!
Peters is infamous for roasting front-row audience members at his live shows. He makes sharp observations, teases mercilessly with on-the-spot jokes and sometimes even uses them as a running joke for the entire evening. You have to be there to appreciate his sharp wit.
 

More than 400,000 fans in 40 cities caught Peters' last show, The Deported World Tour, before the COVID-19 pandemic. 
Tickets to Peters' shows have sold out at prestigious and massive venues worldwide, such as Madison Square Garden in New York City, Sydney Opera House, London O2 Arena, and many more. 
Peters kicked off his current comedy tour in Egypt in December 2021. He's since performed the Act Your Age World Tour in the United States, the United Kingdom and Europe. After us, he heads to New Zealand and Australia.
You can listen to Peters' podcast, Culturally Cancelled, on Apple and Spotify.
Peters' YouTube channel has over 1.4 million subscribers, and his videos have been played more than 386 million times.
You can preview short snippets of Peters' shows on the Russell Peters Facebook page.
Audience reviews for the Act Your Age World Tour are glowing. Many mentioned they were "laughing in stitches", the material is "fresh", and that the show makes a great "date night" and to "let your hair down". So, if you've been stressed lately, catch his show — because laughter is the best medicine!  
 
Don't miss the opportunity to catch Russell Peters live on the Act Your Age World Tour at the Singapore Indoor Stadium on 25 February. Click here to book your seats now!