The early birds might get the worms, but night owls know that there are still plenty of activities after dark that don't involve eating supper. For example, Singapore Sports Hub is still buzzing when night falls, with people arriving after work or in the evenings to play a sport, jog or work out. For some, it's about unwinding for the day with friends over a game of basketball, while others prefer to fit in their exercise when they are most active. 
Here to Play finds out from two after-dark sports enthusiasts why night time is their fittest time.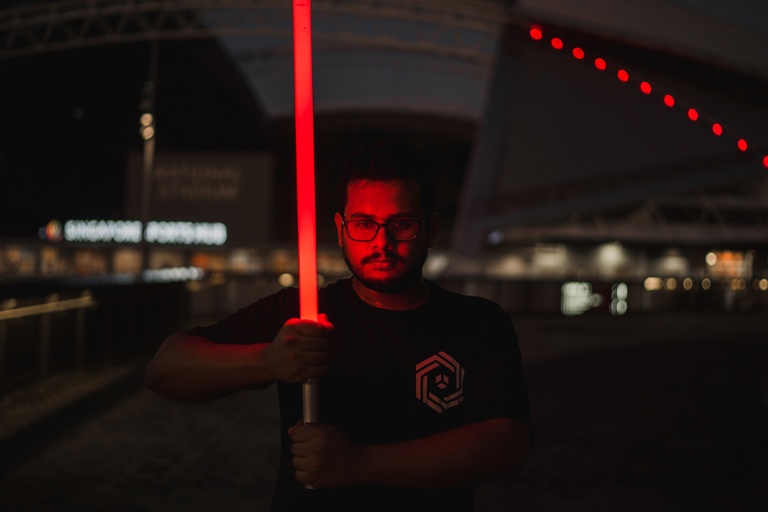 Jahaan V Balan coaches lightsaber duelling at Singapore Sports Hub every Sunday night.
DUELLING AT DUSK
Jahaan V Balan is a man who wears many hats. By day, he is a venture architect who is busy problem-solving in the corporate world. During his leisure hours, the former engineer puts his skills to work by designing and building his own lightsabers in his own mini-workshop equipped with 3D printers, as well as electronic, power and metalworking tools.
Weekend evenings are when the lightsabers — and his passion for the sport of lightsaber duelling — spark into life, swooshing colourful glowing arcs through the darkness of night. Lightsaber duelling combines moves from the Southeast Asian martial art of Kali with a sci-fi-inspired approach to staying fit. "Every Sunday for the past five years — apart from the Circuit Breaker period in 2020 — my lightsaber group and I have found an escape from the rush of working life at Singapore Sports Hub, where we train and spar (safely) at the 100PLUS Promenade," says Jahaan. 
According to him, the 100PLUS Promenade is a fantastic venue for making videos of their sport. "It really fits with the lightsaber and sci-fi vibe," he enthuses. "If you're passing by and see us training, feel free to come say 'hi' when you see us taking a break! We're always happy to chat with people who find what we do interesting." 
Over the years, these evening lightsaber sessions have become an important part of Jahaan's life: "I know that no matter how tough my week has been, my friends will be there and together we'll have some fun and get in some cardio and training."
   
Chia Ming Chen gets her night-time surfing fix at Splash-N-Surf.
GETTING HER SURF ON AFTER DARK
Forget waking up at 5am for a pre-work swim. Pilates instructor Chai Ming Chen lives for riding the waves after the sun sets. The surfing enthusiast enjoys heading to Splash-N-Surf's Stingray surf simulator once a week in the evenings, in addition to attending workout boot camps and dance fitness lessons at Singapore Sports Hub. "I surf to destress after work and avoid the harsh daytime sunlight," she says of her night-time preference. "I love the awesome waves at the Stingray as they remove the hassle of paddling, waiting for the right wave, and wiping out after only a few seconds."
A regular visitor in the last few years, Ming Chen says that she is constantly on the lookout for new and fun workouts to try at Singapore Sports Hub. But surfing remains her favourite way to unwind, and she looks forward to hitting more surf spots overseas and locally. "Singapore Sports Hub truly has got something for everyone: day and night activities, land and water sports, and so many lifestyle and entertainment options," she says. "I hope to increase the number of times I get to visit Stingray each week – in the evenings!"

SUNDOWN FUN AT THE HUB
Thinking of getting active at night? Check out the following facilities at Singapore Sports Hub – some are even open around the clock.
For team sports, badminton, basketball, netball, volleyball and table tennis courts are all available for booking until 10pm daily. And if you want to take advantage of evening's cooler temperature by exercising outdoors, the beach volleyball, basketball hard courts, lawn bowls and skateboarding facilities are open until 10pm daily as well.
If it's still too hot to be outside at night, the air-conditioned Climb Central at Kallang Wave Mall is open to climbing enthusiasts until 11pm on weekdays, and 9pm on weekends. Or head over to the Sports Hub gym at OCBC Arena, which stays open until 10pm every day. You can also cool off in the OCBC Aquatic Centre, which is open until 10pm daily, subject to each individual pool's schedule.
For a more casual workout, the exercise and fitness stations around Singapore Sports Hub precinct and the jogging track at the 100PLUS Promenade are available 24/7 for use, except on venue closure dates.
 
THE PERKS OF WORKING OUT AT NIGHT
While results may vary for everyone, night-time exercise can have benefits that will enhance your quality of life. 
Just as exercise is stress-relieving, doing it after sunset can help you to achieve better sleep. So if you suffer from insomnia, a run before bedtime might be the doorway to sweet dreams. Just make sure to avoid exercising two hours before bed, to allow yourself time to wind down.
Exercising at night might be the key to better performance. In a small study of 20 young men, it was found that they not only performed better, but managed to exercise intensively for 20 per cent longer when they worked out in the evening, compared to morning. This might be due to the fact that our body temperature is higher after nightfall, making this part of the day conducive for exercise. (You still need to warm up, though.)
A night-time workout can be a real stress-buster, especially if you've had a long day at the office. Besides putting you in a better mood before you head home to greet your family, the wave of endorphins will help you to relax in a healthy way before you hit the sack.