For over two years from 2020, Singaporeans were not able to catch live concerts because of COVID-19. But that ended in August last year when megastar Billie Eilish descended onto the National Stadium to play to an appreciative crowd of 30,000. For some Gen Zs in the audience, the pop star's show was the first concert they had ever been to. It was a good fit, seeing that many of them grew up listening to Eilish's brand of dance pop.
But if the current concert calendar is anything to go by, live music in Singapore will include the acts that Gen Xers and millennials grew up with. That doesn't mean younger Singaporeans won't appreciate the music; after all, these artistes are timeless gems whose songs still enjoy massive airplay. 
Here's a quick rundown of who you can expect to see in the coming weeks at Singapore Sports Hub: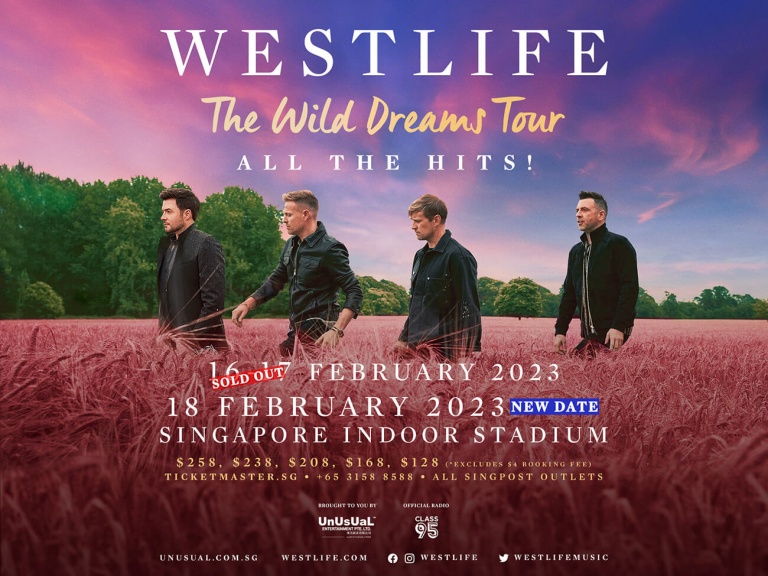 WESTLIFE
2023 marks 25 years since the Irish crooners came together to dominate the pop charts in the late 1990s and early 2000s. While they are renowned for their ballads, the members of Westlife have also begun to take on a more experimental approach in recent years, even trying their hands at dance music.
Fun fact: Westlife wasn't always called Westlife. The group had initially settled on Westside, only to find out that the name was already taken. And those weren't the only names being considered: previous ones include IOYOU and Six of One. We're glad that Westlife was picked because the others just don't have the same ring to it, wouldn't you say?
The Singapore connection: Since Westlife's first show here in 2001, the quartet has performed in the Lion City four more times, most recently at last year's Formula 1 Grand Prix. The group continues that streak with three concerts in February, making it the first international group to perform three nights at the Singapore Indoor Stadium.
"It was 1999 and I was in Primary Four when I first heard Swear It Again on radio. Westlife became my first pop obsession even though I didn't understand what they were singing about back then. Now that I'm married, I do get it! Can't wait to sing along with my friends at their show." 
Ms Chloe Chan, 34
Westlife performs at the Singapore Indoor Stadium from 16 to 18 February. The first two shows are sold out. Tickets for the final date are available here.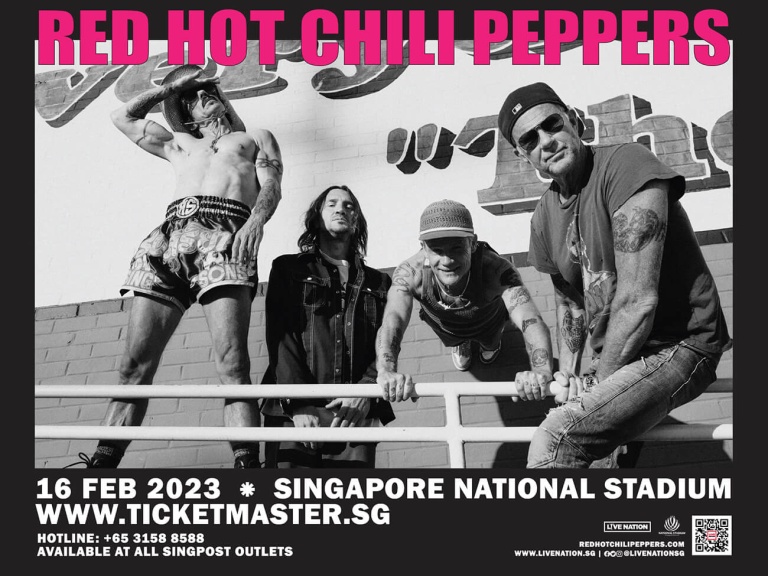 RED HOT CHILLI PEPPERS
California's favourite rockers sure know how to put on a show — just ask anybody who's ever been to their high-octane concerts. Crowds both young and old adore their hard rock style and musical showmanship, most notably from bassist Flea.
Fun fact: In 2012, the band was inducted into the Rock and Roll Hall of Fame for its unique mix of rock, punk, funk and rap.
The Singapore connection: Despite having a legion of fans in Singapore, this will be only the Pepper's second show here, making it a must-attend event.
"My parents introduced me to Red Hot Chilli Peppers and the musical journey has continued ever since. While I like their older hits, I am also impressed by the new music they put out today. in my opinion, last year's Return of the Dream Canteen was the best album of 2022."
Mr Chow Zhiwei, 31
Red Hot Chili Peppers performs at the National Stadium on 16 February. Get your tickets here.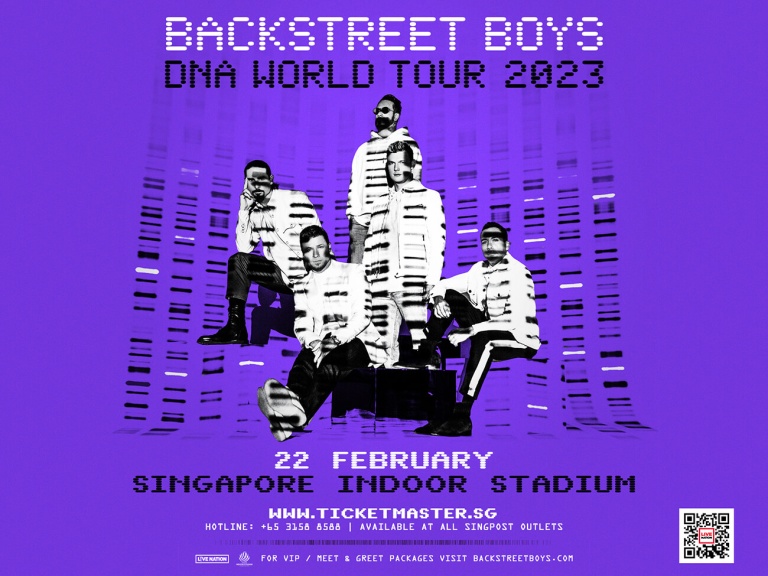 BACKSTREET BOYS
There was a time when you couldn't go anywhere without hearing a Backstreet Boys song over the airwaves. From Everybody (Backstreet's Back) to I Want It That Way, their songs and videos were instantly recognisable by many. 
Fun fact: According to Billboard, Backstreet Boys are the best-selling boy band of all time, with 130 million records sold worldwide. Don't think of them as a yesteryear act: their 2019 album DNA debuted at No. 1 on the American pop charts.
The Singapore connection: It wasn't until 2006 that the Backstreet Boys finally made an appearance in Singapore but they've been a regular fixture in our concert circuit ever since, playing a total of three shows here. 
"I only discovered them in 2019, but the things they sing about are universal, even today. And don't get me started on the dance moves!" 
Mr Ievan Haikal, 21
Backstreet Boys performs at the Singapore Indoor Stadium on 22 February. Tickets are sold out. 
MUSIC FOR ALL
Veteran acts aren't the only ones coming to Singapore Sports Hub. In the next few months, artists who made it big on platforms like TikTok, YouTube and reality TV will also be holding shows here:
HARRY STYLES: Wherever you were in 2022, it was hard to escape As It Was, Harry Style's pop banger. Here's your chance to hear the chart-topper live as the Brit heartthrob returns to Singapore for a one-night concert as part of his Love On Tour 2023. He performs at the National Stadium on 17 March. Get your tickets here. 
KANGDANIEL: With his boyish good looks and slick moves, the K-Pop star is a musical dreamboat. His career shares many similarities with Styles — they both made it big on reality TV and as a boy band. And like the British-born Styles, KANGDANIEL also split from his group, Wanna One, to find major solo success. He performs at the Singapore Indoor Stadium on 11 February. Get your tickets here.
BLACKPINK: Few musical acts have as much global appeal today as this female quartet, who has scored collaborations with everybody from Lady Gaga to Cardi B. Expect to hear those tunes performed with tight choreography and jaw-dropping fashion — traits that have already earned the girls earned rave reviews around the world. The group has added a second show (14 May) to the Singapore leg of its Born Pink tour. Get your tickets here.